---
---
Introducing ApptView 3.0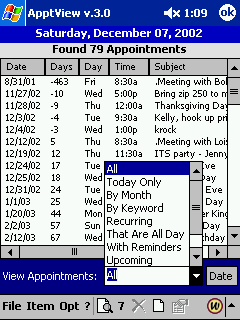 Tired of your Outlook Appointments sneaking up on you the day before?

Wish you could list all your appointments or just those for the coming week?

Wish you could display only certain appointments?

Ever wanted to quickly erase all outdated appointments in your calendar?

Ever wanted to search for an appointment because you couldn't remember when it was?
---
Well the wait is over - ApptView 3.0 is here.
This small Pocket PC 2002 Application allows you to manage your Appointments more efficiently.
Key features:
1. View all appointments in a nice, easy-to-read list that displays the Date, Time, and Subject of your appointment.
2. Option to view appointments in 24-hour / Military time.
3. Option to Delete, Beam (send your appointment to another PocketPC), or Create New appointments with a couple of clicks.
4. Ability to edit an appointment by clicking on it and choosing Edit. This allows you to edit any of it's properties.
5. and, You can view appointments by:
Next 7 Days (to see your week ahead)
All Appointments
Only those listed for Today
By a specified month
By a specified keyword (search term)
Only the Recurring
Appointments that last All Day
Appointments that have Reminders set
Upcoming Appointments Only
View Expired Appointments (so you can edit / delete any of them)
6. Clean up your old and outdated appointments quickly by using the "Delete All Expired" appointments option.
7. Ability to Change the Font Size for easier Viewing.
8. Higher Contrast View so that you can still easily read the display with your Backlight Off or at very low levels.
9. Added a Pop-up "View Notes" button so you can display the "Notes" section of your appointment as well as it's Location, Start Time / Date and End Time / Date. The appointments that contain Notes can quickly be located, see Readme.htm for details
10. Directly Edit your appointment "Notes" within ApptView! No need to switch back to Calendar.
11. Ability to change the date format at the top by clicking the label
12. User friendly "Notes" editor interface
13. Enhanced loading of appointments, optimized for 2000 or more appointments
14. New one-tap tool bar button to show your next 7 days worth of appointments
15. ApptView saves all your preferences for personalization
16. ADDED BONUS! Now ApptView incorporates Zap Power-Off (ARM), so you can either exit ApptView or Turn Off your device, all from the Menu.
Other Enhancements to version 3.0
HOT NEW Feature in version 3.0: Built-in Calendar! Now you can quickly Jump to view any day of any month of any year all with a few Taps.
HOT NEW Feature in version 3.0: New Column for Appointment Day Countdown. Shows the days until each appointment (can be toggled on / off)
HOT NEW Feature in version 3.0: New Column for Appointment Day of the Week. Shows what day the of the week the appointment is on, no need to do a day conversion; when you see 12/12/02, this column will show it's a Thursday (can be toggled on / off).
Unlike other programs that deal with Pocket Outlook Calendar, ApptView is optimized for Size and Speed. At only 480k installed, Apptview leaves more than enough valuable memory for other programs on your device.
NOTE: The Trial version of ApptView is version 2.0

---
NO COMPLICATED SETUP PROCEDURES! ApptView comes packaged as a self-installer linked to ActiveSync for quick worry-free installing and uninstalling.

---
---
In order for ApptView or any other program that uses Contacts, Calendar, Tasks, etc. to work, the Microsoft Pocket PC 2002 End User Update (EUU) version 1.0 must be installed. This update also resolves other Operating System Issues as well. The newer pocket PC's already have this update installed in ROM, these units include: Toshiba e310, e740, IPAQ 3900 series, etc.

For users of iPAQ H3815, H3830, H3835, H3845 and H3850 Pocket PC 2002, the End User Update (EUU) 1 can be found here: http://www.compaq.com/support/files/handheldiPAQ/us/download/15253.html

Download the Trial Version of ApptView (This is version 2.0)
$10.95 at: